Pick a New Engine | What to Look For | Making a Blank | Removing the Old Engine | Disconnecting Systems | Mounts and Coupler | Lifting the Old Engine | Engine Beds | Shimming | Filling Holes | Flat Mounts | Landing the Engine | Exhaust System | Other Systems | Finishing Up
The Last Step.
Look everything over very carefully, clean up very thoroughly, and stop. Take a deep breath. Now look again. If you're sure all the systems are hooked up properly, go ahead and test start.
Run the engine for a while (follow the manufacturer's recommendations) to warm up and check all your systems. An oil absorbent piece (called oil 'sorbs usually) under the engine helps a lot here.
Look for drips – Yellow or black is leaking oil, red without much smell is transmission, smelly red is diesel, and water or coolant should bead or puddle up and not absorb into the fabric.
Fix or tighten as needed, and go for a motor with your new motor. I usually bring along a jerrycan with a few gallons of diesel and a hose I can attach to the engine in an emergency, unless you are absolutely certain all your tank fuel is clean.
Follow the manufacturer's instructions for running the engine up to RPMs, and see how she does. Check the top-end RPMs to tell if your prop is properly pitched for the new engine. If you can't reach the recommended max RPM, you are taking too big a bite out of the water, and need a shallower pitch on the prop. If you can rev past the recommended RPM, you are pitched too shallow, and need to repitch the prop to a deeper pitch.
Propellers and Repitching props are covered in more detail here
If everything is working properly, you're done. Enjoy your new engine!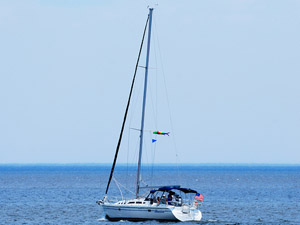 If you skipped "Hooking Up the Systems ", click here to check it out
If you would like to use the content of these articles, please contact us.