Overview | Features | Specifications | Buy Electronics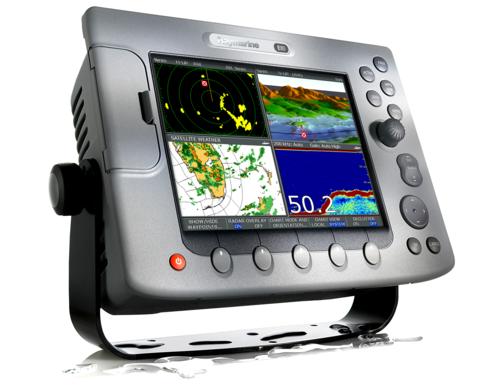 High Performance Navigation

Packed with power and performance features, the 8.4" E80 display can be used as a stand-alone E-Series navigation display, or integrated with other E-Series displays as part of a SeaTalkhsnetwork

E80 utilizes Raymarine's exclusive Ultra-Bright Sunlight Viewable display technology, ensuring you a crystal-clear display with excellent contrast and a wide viewing angle. The bright 8.4" TFT LCD produces stunning chart, radar and fishfinder detail and superior video quality.
The E80 features a highly customizable navigation interface. 3D Navionics Platinum Plus* chartplotting, radar, HD Digital fishfinder, SIRIUS marine weather, instrumentation and video applications are viewed in user-defined "Pages". Each page can be completely customized with multiple window combinations or full screen applications for every navigation scenario.
The E80 supports Raymarine's exclusive SeaTalkhs network protocol, which enables plug and play sharing of radar, chartplotting, fishfinder, weather and navigation functions between E-Series displays. The E80 also supports SeaTalk and SeaTalk2/SeaTalkNG protocols for seamless integration with Raymarine instruments and autopilots. NMEA 0183 and NMEA 2000 support rounds out the E80's robust capabilities for integration with 3rd party electronics and electronic engine monitoring.

The E80 is equipped with 4 video input ports for integration with Raymarine marine cameras, CCTV cameras, satellite television receivers, infrared cameras and more. Each video input can be viewed either full-screen or within a window alongside other navigation displays. The E80 also features a VGA video output port for connection to remote monitors or entertainment systems. Access the E80's navigation functions from the salon or stateroom. An optional remote control keyboard is available for full function control of the E80 display from a remote monitor location.
Built on a rugged aluminum chassis and waterproof to CFR46 standards, the E80 includes both a convenient trunion mounting bracket as well as a low-profile flush mounting kit for a clean, unobtrusive helm.

The Raymarine E80 kit comes with an owners manual, quick reference guide, full-face suncover, trunion mounting kit, flush mounting kit, NMEA input/output cable, power cable, SeaTalk/auxiliary alarm cable, SeaTalkhs network cable, and 4-channel composite video input cable.
Multifunction Navigation



Raymarine's most powerful multifunction displays.
Simply connect the appropriate sensor to transform the E-Series display into a full function chartplotter, digital fishfinder, radar or on board video system.
Ultra Bright Sunlight Viewable Color Display.



SeaTalk hs Networking



Super fast 100 Megabit networking.
Connect up to 8 SeaTalk hs devices with simple plug and play interfacing.



Video Integration



Display remote video sources from CCTV cameras, entertainment systems, and more.
Export navigation video to video displays or remote monitors.



Instrument Integration



Network with SeaTalk, SeaTalk2, SeaTalk HS, NMEA 0183 or NMEA 2000 instruments.
Display data from NMEA 2000 compatible engine systems.



Chartplotter



Information rich Navionics vector cartography combined with satellite differential GPS.



Digital Fishfinder



Patented digital sonar technology for precise targeting of fish and bottom structure.



Radar



Raymarine radar technology delivers unmatched performance and ease-of-use.
Choose from a wide selection of high performance Radome and Open Array scanners.



Sirius Weather

View up to the minute animated weather radar, forecasts, storm warnings and more delivered instantly via satellite.
Simple SeaTalk hs connection to SR100 Weather Receiver.

PC Integration

RayTech RNS 6.0 turns brings E-Series to your PC.
See and control 3D charts, radar, HD Digital fishfinder and more.
Record and play back your HD Digital fishfinder display.
Easy waypoint and route planning from boat, home or office.
Name
Value
Notes

AIS

Target symbols
Sleeping, activated, selected, dangerous and lost.
Target information
AIS vectors, safety critical data and full AIS data.
Collision avoidance
Safe zones and safety messages.
Alarms
Local alarm messages, lost targets

Chartplotter

Waypoints
1200 waypoints entered via cursor, lat/lon, range and bearing from present position or at boat's position. 16 character name can be assigned. Waypoint symbols and groups Additional storage available on CompactFlash cards.
Waypoint Transfer
Waypoints database via NMEA and CompactFlash cards. Software also available to convert waypoints to Excel file.
Man Overboard (MOB Mode)
Mark placed with course line; readout shows range, bearing, lat/lon of MOB and time elapsed since MOB.
Screen functions
Full, half and quarter screens available dependant on function. Also 3 window page with 2 x 1/4 page windows and 1 x 1/2 page window.
Cartography
Navionics Charts on CompactFlash cards Chart of the world built in.
Chart scaling
1/32nm (if cartographic detail is available to 4000nm).
Presentation Modes
Head up, Course up or North up (selectable True or Mag-netic). Relative, Autorange or True Motion. Screen offset. Radar or 3D synchronization.
Routes
A route plan may contain up to 50 waypoints. Up to150 routes can be stored in the units internal memory. Additional storage available on CompactFlash cards. SmartRoute to create a route from track history.
Track History
10 tracks with up to 1000 points in each can be stored in the units internal memory. Track optimization reduces number of points used or user selectable time or distance interval. Additional storage available on CompactFlash cards
Radar/Chart overlay
Radar image can be overlaid on all screen charts.
Radar/Chart synchronization
To synchronize radar range and chart scale
3D/Chart synchronization
To synchronize 3D and 2D chart scales and orientation.
Aerial overlay
Overlay of aerial photograph on the chart
AIS overlay
Switch AIS symbols on/off. Display heading/speed vectors and ROT. View detailed AIS data, safety critical target data, ALR and SRM messages. Set up a safe zone.
Navigation information
Own boats position in lat/lon, XTE, TTG and SOG/COG selectable. Bearing and distance to waypoint. Bearing and distance to cursor and ETA.
Cartography
Navionics Charts on CompactFlash cards Chart of the world built in.
3D Presentation Modes
Active motion mode, planning mode, Adjust rotation and pitch, port, starboard, forward and aft view, multiple views, Vessel offset
3D Display
Declutter, Transducer cone, Depth scale, Waypoint name, Adjust exaggeration, 3D view locator

Fishfinder

Transducer
Transom-mount, in-hull or thru-hull options
Receiver Type
Patented Raymarine HD Digital receiver technology
Power output
Dependant on Digital Sounder Module
Frequency
Dependant on Digital Sounder Module
Alarms
Fish alarm, fish alarm depth, shallow and deep fish limit
A-Scope Display
Displays Sonar Returns in real time
Bottom Coverage Display
Shows the diameter of the transducer beam where it meets the bottom.
Bottom Lock
Displays echoes directly above the bottom.
Range markers
Easily see how far the boat is from a target on the echo sounder screen
Target Detection
Sonar fish echo with target depth readout
Zoom
2,3,4x and user programmable Zoom scales

General

Data Display Capabilities
Chartplotter, Fishfinder, Radar, External Video (x4), CDI(Course Deviation Indicator), and customizable Data Bar display
Dimensions
11.14"X 8.27"X 5.27" (283 x 210 x 133mm)
Display (LCD) size
8.4"
Display colors
Display resolution
640 x 480 pixels (VGA)
Display type
Ultra Bright Sunlight viewable color TFT LCD
Mounting Methods
Bracket or console Mounting hardware included
Operating and non operating temperature limits
14°F to 122°F (-10°C to 50°C)
Power consumption
20 Watts
Voltage range
10.7–32 volts (12/24v nominal)
Waterproofing
CFR46/IPX6 standards
Weight
9.2lbs (4.18kg)
Approvals CE - conforms to FCC - compliant with
Essential requirements of 1995/5/EC, 1989/336/EC. CFR47 Parts 2 & 80
Mounting
Either trunnion bracket or flush mount option
Humidity limit
up to 95% at 35°C non-condensing
Display Windows
Chart, Radar, Fishfinder, CDI, Video, Data, Weather and Engine Monitor.
Illumination
Screen and keypad: 0 to 100% in 64 steps Day/Night Mode
Languages
The selection available will vary according to your location.
System Alarms
Alarm clock, Anchor, Arrival, Deep depth, MOB, Offtrack, Shallow depth, Temperature, Timer
Navigation Alarms
Arrival alarm, offtrack XTE alarm.

Instrument and Engine Data

Data Pages
5 pages available. Pre-defined (Navigation, Waypoint, Route, Fishing or Sailing) or user-configured.
Data available
Vessel position, active waypoint, TTG, VMG - Waypoint, depth, COG SOG, heading, speed, set/drift, trip, log, ground log, ground trip, rudder, local time and date, sea temperature, app wind, true wind, VMG wind, ground wind XTE,compass,locked heading, way
Engine Pages
5 pages available. Pre-defined (engine, engine and fuel, fuel resources, engine and resources, twin engines or triple engine support) or user-configured.
Engine Data available
Tacho, boost pressure, alternator, oil pressure, coolant temperature, engine hours, fuel level (tanks 1 & 2), fuel rate, total fuel, load.

Interfaces

Network Configurations
Single, dual or multiple display configurations.
SeaTalkhs Network
Supports 8 devices/displays
Optional network switch required
NMEA 0183 Input
GLL, GGA, GLC, GTD, VTG, BWC, BWR, RMA, RMB, RMC, XTE, VHW, HDG, HDM, HDT, DBT, DPT, APB, VLW, MWV, WPL, RTE, DSC and ZDA. Selectable to 4800, 4800 Navtex, 9600 Navtex or 38,400 AIS
NMEA Output - User selectable
APB, BWC, BWR, DBT, DPT, GGA, GLL, MTW, RMA, RMB, RMC, RSD, TTM, VLW, VHW, VTG, WPL, VHF/DSC and ZDA
SeaTalk Input
Depth,SOG,COG, Position, Waypoint number, range/ bearing, TTG, Boat speed, Time, XTE, Heading, Wind, data, Log/Trip, Pilot status, Temperature, MOB and cursor position
SeaTalk Output
Cursor data, guard zone and navigational data bridged from NMEA
SeaTalk2/NMEA2000
1 port
Also supports SeaTalkng (Next Generation data bus) connectivity. Adapter cables required for SeaTalkng and NMEA2000
Video Input
4 composite video (NTSC or PAL) inputs (BNC connector) or 2 S-Video inputs using an optional cable
Video Output
VGA 9 pin sub D connector

NavTex

Alerts
Incoming message (selectable categories)
Message List
Sorting

Radar

Range Scales (Range Rings)
1/8 (1/16)nm to 72 (12) nm dependant on scanner Performance limited by scanner type and position.
Range Ring Accuracy
Better than +/- 1.5% of the max. range scale in use, or 22m (72 ft.), whichever is the greatest.
Bearing accuracy
+/- 1°
Variable Range Markers
2 x VRM's, readout nm, sm, km
Electronic Bearing Lines
2 x EBL's, floating if required, resolution 1°
Bearing scale
360° graduated at 10° intervals 2° small ticks 10° large ticks
Minimum range
23m (25 yds)
Range Discrimination
23m (25 yds)
Presentation Modes
Head up, Course up or North up (selectable True or Mag-netic) Relative or True Motion
Scanner Control
Interference rejection, standby/transmit modes, pulse selection, Tune, Rain, FTC and Sea controls, with selection of manual or automatic control of gain, sea clutter and tune (Auto GST)
Compass Input
NMEA 0183 (required for fast heading data, suitable for MARPA), or SeaTalk
Waypoint Display
Create waypoints and target waypoint displayed with User control of symbols and groups
MARPA
Manual acquisition of 10 targets, automatic tracking, dangerous target alarms, safe zone, target history, true or rela-tive vectors, CPA graphics and indication of target speed/ course, bearing/ range, CPA and TCPA.
Guard Zone Alarm
2 guard zones, selectable sensitivity level, audible alarm
Automatic Tuning
Auto control of gain, sea clutter and tune.
Off Center function
In Relative Motion, 1/3 or
Wakes
10s, 30s, 1 min, 5 min, 10 min, OFF
Target Expansion
Operator selectable with 2 levels available, OFF
Timed TX
Rotation periods: 10, 20 or 30 scans Repetition periods: 3, 5, 10 or 15 minutes
AIS overlay
Switch AIS symbols on/off. Display heading/speed vectors and ROT. View detailed AIS data, safety critical target data, ALR and SRM messages. Set up a safe zone.

Weather

Type
SIRIUS Marine Weather
Weather elements
Storm cast, waves, Canadian radar, lightning, wind, sea sur-face temperature, surface observations stations, city weather, NOWRad, storm tracks, surface pressure.
Animated weather graphics
Weather forecast, weather radar history
Weather reports
Tropical statements, marine warnings, marine zone fore-casts, marine watchbox.